ABOUT US
In The News & Reviews
In The News
1. Book Alaska cruises early, ships are crowded!
Alaska is hot. If that sounds counterintuitive, hang onto your mittens!
2. Alaska Cruise Tour Review
7 Nights - 8 Days Anchorage to Fairbanks plus a 7 day Voyage of the Glaciers Cruise
In The News

1. Book Alaska cruises early, ships are crowded!
Passengers think first of the last frontier
Alaska cruises gaining in popularity
Tourism sizzles on the "Last Frontier"
Passengers, cruise lines love Alaska
Alaska cruises are heating up
BY ARLINE BLEECKER AND SAM BLEECKER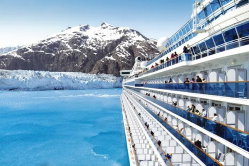 This story first appeared in the following publications.
Newsday Pittsburgh Post- Gazette Wichita Eagle Kentucky Star
Alaska Magazine Winnipeg Free Press Chicago Tribune
Orange Country Register ( California ) Hartford Courant
Sydney Morning Herald South Florida Sun Sentinel
Orlando Sentinel Arkansas Democrat The Buffalo News
Alaska is hot.
If that sounds counterintuitive, hang onto your mittens! As a tourist destination, the last frontier sizzles and, consequently, space aboard the flotilla of ships that call the 49th state home from May through September fill quickly. In the 25 years from 1990 to 2015, for example, the number of cruisers who've sailed there has nearly quadrupled from 235,000 to a more than a million, says Marty Trencher, owner and managing director of Travel Direct and Alaska Cruises Direct, a 12-year-old firm specializing in vacations to the "Last Frontier." In total, a dozen large and small cruise lines will ply Alaska's waters in 2016 -- Princess Cruises, Holland America Line, Royal Caribbean International, Celebrity Cruises, Carnival Cruises, Norwegian Cruise Line, Regent Seven Seas Cruises, Oceania Cruises, Lindblad Expeditions, and Silversea Cruises.

According to Trencher, Holland America and Princess together attract 90 percent of all passengers to Alaska and offer the majority of cruises and tours to this wilderness landscape. But there's more to Alaska cruising than just these two lines. Alaska is awash with "so many possibilities, so many ways to travel," Trencher says, that any vacation "requires research, research and more research," he advises. In fact, there are enough options to make your head spin. You can narrow your options by choosing from a handful of ships with less than a hundred passengers, including a paddle wheeler, to dozens of vessels that carry well over 2,000.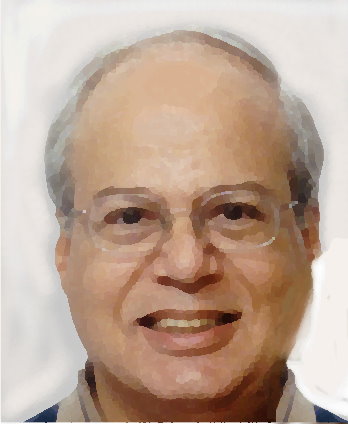 Marty Trencher
The larger ships offer a host of amenities, dining options, entertainments and "the excitement of crowds, which is impossible on smaller vessels," Trencher notes. On the other hand, "small ships go places where big ships can't. They get closer to the glaciers and the wildlife," he adds. Keep in mind, too, that you're not really seeing Alaska unless you step off the ship and get up close and personal with the wilderness.

Here the possibilities seem endless.
Most cruise ships not only sail Alaska's Inside Passage, featuring sailing in either Glacier Bay or Sawyer Glacier, but also visit quaint ports teeming with people (although many of those people will be cruise passengers pouring off of cruise ships) such as Juneau, Ketchikan, Sitka, Wrangell and Skaway, and lesser known stops like Petersburg. Essentially, these ports are gateways to snow-capped mountains and glacier riddled bays and to wilderness adventures that include whale watching, bear sighting, and bald eagle spotting.

Depending on the cruise line, the itinerary and the shore excursions you choose, you also can explore any one of 14 national parks and wilderness areas, including Kenai Fjords, Gates of the Arctic, Klondike (Skagway), Wrangell-St. Elias and Sitka national parks, plus the Klondike Historic Site (Dawson City), Yukon Charley National Preserve, Kenai National Wildlife Refuge, Misty Fjords National Monument and Tetlin National Wildlife Refuge.

To capitalize on the majesty of the state, many lines also offer cruisetours, which let you augment your cruise with a land stay. Holland America, for instance, offers vacation packages combining 3- or 4-night cruises with 6-, 8-, or 9-day land tours. In all, Holland America has 29 distinct cruisetours ranging from 10 to 20 days and Princess offers 24 ranging from 10 to 16. Celebrity, Regent and Royal Caribbean also offer escorted land tours, Trencher notes.
According to Trencher the most unusual shore excursions are fishing off a float plane from Ketchikan or Juneau, river rafting on the Haines or Skeena Rivers, a backcountry safari and a visit to Denali Park, dog sledding without snow and on wheels in Whittier, and heli hiking, where passengers are flown by helicopter to a mountain top around Mt. McKinley and then hike down.

The list doesn't end there, however. You can trek glaciers, take a mile-long zipline-canopy tour at Icy Strait Point, Klondike rock climb or rappel in Skagway, canoe or kayak almost anywhere, and even go underwater in semi-submersibles. In Campbell River, Regent passengers can accompany an authentic Alaskan mail floatplane making deliveries.

There is a downside to popularity, however. Because of the state's allure, Trencher warns "There are no real bargains in Alaska as there are in the Caribbean."
"Alaska is a once-in-a-lifetime vacation and high priced," he says. On average a 13-day cruise tour in a balcony cabin on a larger ship will run around $2,700 per person without airfare on the season's shoulders (May or September) and about $3,000 in peak season.

But book early and some deals emerge. For example, Norwegian sails three ships (Norwegian Pearl, Norwegian Star and Norwegian Sun) at published fares ranging from $729 to $1,399 per person, based on double occupancy, for an inside stateroom. Prices drop dramatically if you book early and range from $599 to $699 for lower category accommodations. An early booking special from Holland America will take you on a 7-day Glacier Discovery cruise for $549. Carnival's 7-day Glacier Bay cruises start at $879.

Of course, luxury comes at a price. Step up the gangway on Regent's Seven Seas Mariner and you'll lighten your wallet by $4,195 to $16,750 for 7-, 8- or 11-day cruises sailing between Seward, Alaska and Vancouver, B.C.
End of Article
2. Alaska Cruise Tour Review

7 Nights - 8 Days Anchorage to Fairbanks
plus a 7 day Voyage of the Glaciers Cruise
by Raye & Marty Trencher
Editors and Publishers : Cruise Traveler Magazine

Trapper Creek, Alaska - Since 1999 we have returned to Alaska a number of times. And each and every time this Great Land continues to amaze. We've cruised the Inside Passage and the Gulf of Alaska before. This time we chose to visit the interior of Alaska, at the end of the Summer season, in September. This is the time of the year, when the kids are back in school, the weather is mild and many cruise travelers take advantage of reduced rates just before every hotel, lodge, restaurant and gift shop shuts down for the winter. ( on or about September 17th )

On this trip we chose visits to Anchorage, Fairbanks, and Denali National Park. We also chose both Princess Rail and the Alaska Railroad's 'Goldstar" service as well as motorcoach transportation to get us from place to place.
We chose Princess Wilderness lodge accommodations as Princess has exclusive offers on over 26 land tours designed around its own custom-built lodges. We included the most popular sightseeing tours, including the more in-depth Tundra Wilderness Tour of the six million acre, Denali National Park and the Gold Dredge 8 and Discovery River Boat cruise in Fairbanks. Thus, giving our readers a well-rounded look at what they can expect when they visit Alaska.
This is a review of the land portion of a cruise tour that would involve a 7 day Northbound or Southbound Alaska Cruise from Vancouver to Anchorage or from Anchorage ( Whittler port ) to Vancouver, plus a 7 day land tour. Princess Cruise Ships that tie into this type of land tour are Island Princess, Coral Princess or Star Princess.

Northbound Cruise Ship Itinerary: Vancouver, British Columbia | Ketchikan, Alaska | Juneau, Alaska | Skagway, Alaska | Glacier Bay National Park, Alaska (Scenic Cruising) | College Fjord, Alaska (Scenic Cruising) | Anchorage (Whittier), Alaska , Then a 7 day land tour. Shorter land tours as few as 3 days, plus the 7 day cruise are also offered. And when you travel between ship and lodge by Princess' Direct-to-the-Wilderness rail, ( an exclusive to Princess ) you'll have a front-row seat for each and every dazzling vista. Getting to the wilderness of Denali is now quicker and easier.

Southbound Cruise Ship Itinerary : Anchorage (Whittier), Alaska | Hubbard Glacier, Alaska (Scenic Cruising) | Glacier Bay National Park, Alaska (Scenic Cruising) | Skagway, Alaska | Juneau, Alaska | Ketchikan, Alaska | Vancouver, British Columbia. Shorter land tours as few as 3 days, plus the 7 day cruise are also offered.


Why Alaska?
Up north there's a land without fences. Animals outnumber people, sunlight shines at midnight and nature reigns. Life is different. This northern frontier still boasts pristine landscapes, majestic wildlife and a coastline that is one of the most enthralling waterways in the world. Beyond Alaska's fortress-like glacier walls lie scenic ports of call, treasured national parks, and abundant wildlife, Including Wolf, Moose, Caribou, Eagles, Whales and Bear. With more than 1,400 miles north to south and 2,400 miles east to west, Alaska is truly a land of epic proportions.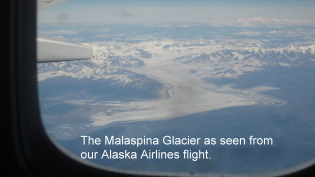 If you are planning to cruise Alaska, adding a land tour offers you the ultimate experience and greater insight into the wonders of Alaska. The opportunity to take advantage of a range of enriching options to see the Great Land's glaciers, frontier towns, wildlife and national parks from the perspective of spectacular ships, exclusive rail service and wilderness lodges. The cost to add a 3 day land tour can be as little as $399 per person above the cruise fare, so it can be most affordable. More costly and longer land tours range from 4 to 8 days, and you can choose from hosted or fully-escorted, meal included Alaskan adventures.

So let's get started with our review.
Our journey began in Anchorage. We arrived mid-afternoon at Ted Stevens Anchorage International Airport and were greeted by Princess representatives in the baggage claim area. Porters moved our luggage out to the transfer bus and off we went to the celebrated Hotel Captain Cook. Located in downtown Anchorage, 3 blocks from the Tony Knowles Coastal Trail, this sophisticated hotel is a 6-minute walk from the Alaska Center for the Performing Arts. Spread across 3 hotel towers, all of the rooms and suites feature free WiFi, satellite TV and views of the Cook Inlet or Chugach Mountains. The hotel has 4 restaurants and lounges, a health club with fitness facilities and an indoor pool.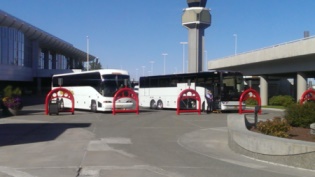 To our surprise the hotel had a very special guest staying at the hotel at the same time we were in residence; The President of the United States. President Obama was in Alaska for a series of visits centered around the environment. So, there was a huge security presence and some adjustments guests had to make like going through security similar to what you find at the airport. The inconveniences were minimal and we were able to get around the hotel and surrounding streets with ease.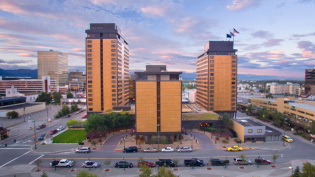 Before dinner we paid a visit to the "Log Cabin", Anchorage's Visitor Information Center downtown.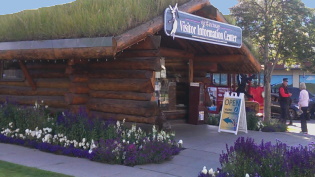 Friendly and helpful guides can assist you in finding just the right things to see and do during your visit in Anchorage and it's surroundings. We learned that Anchorage is a place where floatplanes are almost as common as cars. And, if you travel at the peak of summer, total daylight lasts as long as 18 hours a day!

Our three favorite things to do in and around Anchorage;
Prince William Sound
Boasting more tidewater glaciers than anywhere else in North America, this gorgeous deepwater sound is home to a host of rich marine life.
Portage Glacier
This giant wall of ice is one of Alaska's most popular and exciting attractions. It's your chance to witness glacier calving and hear the thunderous roar when a huge block of ice crashes into the sea.
Alaska Wildlife Conservation Center
Dedicated to preserving Alaska's wildlife through public education, this refuge for injured and orphaned animals includes moose, elk, caribou, bears, musk oxen, bison, deer, lynx and eagles.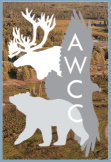 The following morning, we had breakfast at Anchorage's well-known Snow City Cafe. The restaurant is famous for serving the freshest ingredients available and they buy from local vendors whenever they can. Most everything they serve is made from scratch. They also offer a range of healthy choices, such as egg whites, fat-free cooking spray, or a side of fruit instead of hash browns. Try the reindeer sausage. This Cafe is a must see-and-do visit when you are in Anchorage.

After breakfast, we boarded our transfer coach headed for the Mt. McKinley Princess Wilderness Lodge. On our three-hour motorcoach trip from Anchorage to the lodge, the landscape is dotted with long stretches of valley and wetlands populated with daisies, black and white spruce, cottonwoods, aspens and red fireweed, the state flower.

When you are on a Princess cruise tour, your luggage is transferred from one hotel to the next via truck, and is there in your room when you arrive at your next destination. The system worked to perfection. You need only carry a small carry-on bag for your medicines, camera and incidentals on the buses and on the train.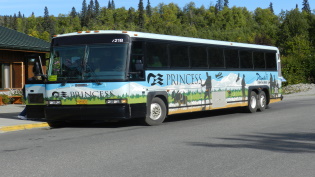 The ride up to the Mt. McKinley Princess Wilderness Lodge** took a little over 3 hours. Along the way, we were treated to an entertaining and informative commentary from our Drive/Guide Penny. In her 70's, Penny was a treasure trove of facts and stories about Alaska. The weather along the way was as near perfect for Alaska as you can get. Bright blue skies, and nary a cloud to block the spectacular scenery. As we approached our destination, we were treated to numerous sightings of the 20,320-ft.-high Denali, North America's tallest peak. Formally known as Mt. McKinley as of August 30, 2015, the name reverted back to the moniker indigenous Alaskan Athabaskans referred to as the "High One" : Denali. From now on, the mountain will be known as just Denali: there is no "Mt." in front of the name Denali.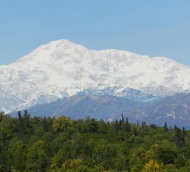 Mt. McKinley Princess Wilderness Lodge is just 40 miles from the peak of the mountain. On the day we arrived the mountain was in full view. That's a rare occurrence, due to the mountains changing weather patterns, and it only happens about 30% of the time. It's a spectacular view -- when you can get it. The lodges' back deck faces the mountain, and offers one of the most inspirational views of the mountain found anywhere. The "Great Room" features floor-to-ceiling windows that look out on Denali and the Alaska Range.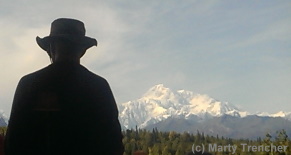 There's a rustic feel to the lodge with a number of accommodation buildings in a campus-like setting surrounded by woods and hiking paths. The lodge, with over 400 rooms sits on 147 acres overlooking the Chulitna River. Rooms are comfortable, nicely sized and rustic themed with two comfortable queen size beds. Decorated with framed prints of bear, moose and other wildlife and colors that highlight a natural palette of light and dark brown, forest green and umber. Each room has a TV, phone, alarm clock, hair dryer and coffee maker. However, there is no air conditioning or room service available.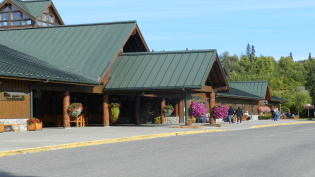 A variety of exciting Denali tours and outdoor adventures await you with over 25 options including fishing tours, a glacier walk, and a backcountry wilderness adventure, river rafting, a jet boat safari, and even a thrilling flight that takes you to the base of Denali. WiFi is free in the main lodge. A shuttle service makes daily hourly trips to and from Talkeetna ($10 r/t charge). There is a regular free shuttle that will take you anywhere you want to go on the property. Local Denali State Park volunteers are on hand and provide nature briefings.
Restaurants include the more upscale ( and pricey ) Mountain View Dining Room and the less expensive 20,320 Alaskan Grill. The 20,320 Alaskan Grill - named for the height of Denali and is decorated in mountain-climbing decor with artifacts from actual Denali ascents. We found this casual restaurant our favorite. The food was really good, choices plentiful and the wait staff quite friendly. Try the Reindeer Meatloaf, Blueberry Salmon or Alaska Crab Dinner.
At the Grizzly Bar you'll find an extensive wine list and a selection of fine Alaskan-brewed beers.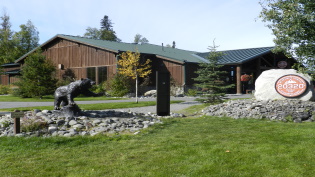 There are a number walking trails on the lodge grounds. Our favorite is the South Loop Trail. It's easy to traverse, and only 1/2 mile in length.

Along the way you will learn about the diverse plant life of Interior Alaska, and the traditional uses of the flora of the Interior. Soak up the beauty of the plants of the Alaskan wilderness and learn about plants from interpretive placards. 25 different plants, from berries to mushrooms to trees, are marked.

The trail is only 1/2 mile (three quarters of a kilometer) and follows fairly even terrain (only one very short steep incline). Interpretive signs tell the stories of these plants, their food and medicinal uses. The Dena'ina (Tanaina) Athabascans inhabited this area, and it is their utilization of the local flora that is presented. Some of the plants you may see on this trail include: shelf mushrooms, high-bush cranberries, club moss, dwarf dogwood, old man's beard lichen, and several varieties of fern. Bring your camera, and use the "macro" setting for great shots of these diverse and beautiful plants.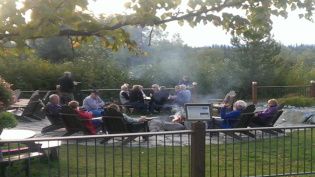 After dinner we especially loved sitting by the fire pits and talking with other guests, making "s'mores" and all. No twitter, no facebook, no email. Just old-fashioned conversation with other guests. So relaxing, with a great view of Denali in the background.
The next day, we took the shuttle to Talkeetna, about an hour away.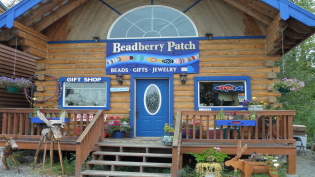 The historic village of Talkeetna has an outstanding panoramic view of the Alaska Range that can be enjoyed and photographed from several places as you wander through the town, and is the launching point for: flightseeing, fishing, riverboat tours, float trips, hiking, mountain climbing, ATV tours, and zipline tours. The center of town features art galleries, gift shops, and places to dine. Even unusual "no parking" signs.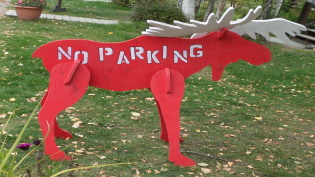 Across the street from the shuttle bus drop off, you'll find Shirley's Burger Barn. Plan to visit Talkeetna around the lunch hour and you will not be disappointed. Our friend Shirley runs this small lunch stand which features seriously good hamburgers and hotdogs. Shirley is famous. She has been featured with a cover story in Rachael Ray's cooking magazine. Shirley's friendly, chatty and a great story teller. But what she does best is make great burgers that are thick, juicy, and in our opinion some of the best in the world! She makes her own fries and serves up large portions. She'll cook your burger perfectly from medium rare to well-done... anyway you want it. For desert try the Fireweed Ice Cream. Naturally, we make it a must stop place to eat whenever we are in Talkeetna.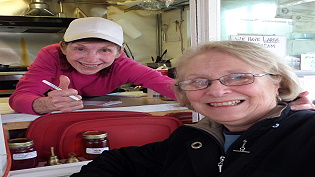 The next morning, we boarded our glass-domed rail car at the Talkeetna Train Depot bound for Denali National Park.
While Alaska land tours offer a more in-depth view of Alaska's interior, the experience is far different. You're on the road every couple of days, and actively sightseeing at every stop. You're living out of your suitcase, repacking and having luggage pick-ups outside your room as early as 6 a.m. In contrast, onboard your cruise ship, you experience an easygoing pace of activity. So, we recommend doing the land portion first. Start in Fairbanks and make your way to Denali National Park and south to Anchorage, then to Whittier to board your cruise ship. Ports of call include Skagway, Ketchikan, and Juneau, Alaska.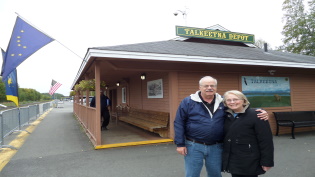 What differentiates Princess from their competition is not only their own private accommodations, exclusive rail cars, and driver guides but a well-managed operation that succeeds in large part from years of experience. At each property, as well as on the train, for example, guests receive a welcome packet with room key, a map of the property, the Princess Patter, and information about the next day's luggage pick-up and departure time. For all hosted tours, meals are on your own. Each lodge has more than one restaurant, with a broad range of dining choices and varied prices. Throughout your land tour, It's casual dress. There is no need for suits or dinner dresses etc. On an Alaska Land & Sea Vacation, you have to pack separately for the cruise and the land tour. Luggage with a "Join Me Onboard Ship" tag goes directly to the ship while those marked "Travel With Me," along with a tag designating the next destination, are transported to the lodge where you will be staying that night.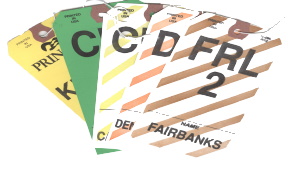 You should give some thought as to what you should pack in your separate suitcase destined for the cruise ship. That suitcase will not travel with you on land, but will be sent directly to the departure port and will appear in your cabin when you board the ship. We recommend for the land tour you pack as light as possible.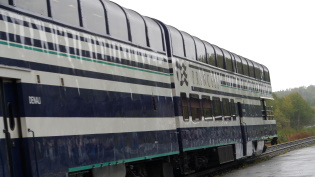 The train ride up to Denali National Park offered great views and vista's, revealing some of the most spectacular scenery yet. The train powered by the Alaska Railroad has six cars, not all of them belonging to Princess. You will also see cars owned by Holland America and Royal Caribbean/Celebrity cruise lines. Each Princess rail car has a wraparound glass dome, with unobstructed views. Seating, at four-top banquettes, is reserved by table with seats facing forward and backward. Get in line early to board, so you get seats facing forward. Each rail car has an outdoor viewing platform, where you get some great pictures.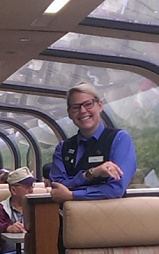 The food and beverage service is divided. Upstairs, where passengers are seated, there's bar service and snacks. Downstairs, there's fine dining with white tablecloths, fresh flowers on the table and a lunch or dinner menu, depending on the time of travel. Onboard, a Princess "Alaska Host" points out sites of interest and answers all your questions about the trip.

Early afternoon, we arrived at the Denali Rail Depot and were transferred to the Denali Princess Wilderness Lodge, located about a mile from the entrance to Denali National Park on Highway 3, a major roadway.
You haven't fully experienced Alaska unless you've been to Denali National Park. Its boundaries encompass an impressive six million acres — the size of the state of Massachusetts. Home to Denali, North America's highest peak towers an unbelievable 20,320 feet in the sky. The Park hosts an array of wildlife from moose, caribou, dall sheep and grizzly bears to gray wolves and red foxes.

The Denali Princess Wilderness Lodge is the closest and most comfortable place to stay when visiting the park. With an expansive deck with views into the park, Denali Princess Wilderness Lodge is the ideal spot to relax, and savor the exquisite landscape. Each guest room is comfortably appointed with two double beds, two queen beds, or one king bed, television, and telephone -- just in case you want to catch up with the outside world. Outdoor hot tubs afford commanding views of the Park and Nenana River while you relax and indulge in a soothing soak.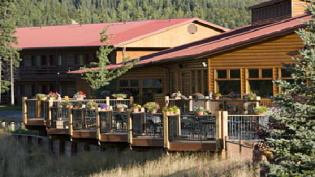 The sprawling campus has over 600 rooms, and feels like a small village with landscaped walkways lined with flowers linking guest accommodations with a unique gathering of gift shops, and restaurants.
Be sure to experience the Music of Denali — a dinner theater featuring a hearty Alaska meal and a rollicking musical comedy that recounts the first ascent of Denali.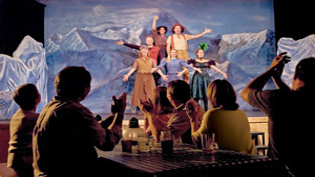 Across the highway from the lodge you will find all manner of gift shops, sightseeing tour offices, even a Subway restaurant. If you are booked on the longer Tundra Wilderness Tour of Denali National Park, we suggest you pick up a sandwich at Subway to take with you as the tour is about 8 hours long. All you get from the tour company is a snack box and water, not enough to satisfy your hunger over the tours duration. We also recommend you pack a small fold-up cooler bag to store the sandwich and perhaps some energy bars.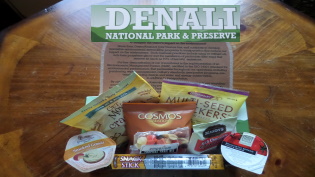 The highlight of our visit was the longer Tundra Wilderness Tour of Denali National Park. This comprehensive full-day tour travels deep into Denali National Park for the best possible wildlife viewing, Denali viewpoints and a host of magnificent vistas. Travel 53 miles into the park to the Toklat River rest area as it offers a wonderful diversity for visitors. Incredible scenery, a narrated history of the park road, by tour buses featuring a trained naturalist who both drives the bus and narrates during the trip.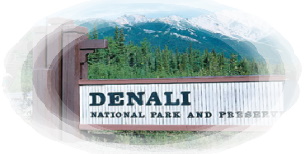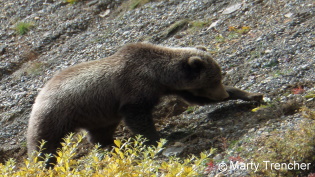 Visiting Denali National Park is all about spotting wildlife. Denali is six million acres of wild land, bisected by one ribbon of road. Travelers along it see the relatively low-elevation taiga forest give way to high alpine tundra and snowy mountains, culminating in North America's tallest peak, 20,320' Denali. Wild animals large and small roam un-fenced lands, living as they have for ages. Solitude, tranquility and wilderness await.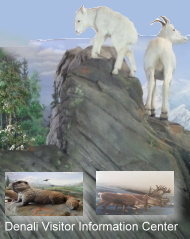 Some of the best opportunities to view the park's wildlife inhabitants await you on this tour. When your tour driver is able, they will take video footage of animals along the road and project the image onto the screen so you can get a close-up look at the action. Dress in warm layers. You will need a good digital camera with a significantly large zoom lense and powerful binoculars.
On our trip within Denali National Park, we had a Moose cross the road just in front of our bus. Spotted Dall sheep high up on sheer cliffs, and got up close to a brown bear! We got a glimpse of a caribou, gray-wolf, red-tailed fox and a lynx. Park tour is approximately 8 hours. Due to Park Service regulations, school buses are used.
Learn more about the Wildlife of Denali from the National Park Service:
Caribou , Black bears Grizzly bears, Moose, Dall's sheep, Wolves, Red foxes, Wolverines, Arctic ground squirrels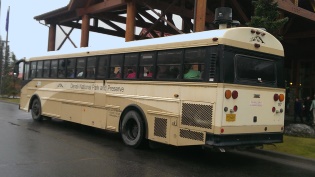 The buses do not have restrooms; however, rest stops are made approximately every 90 minutes. Be sure to check your welcome packet upon arrival to confirm the exact tour departure time. Wheelchair accessible buses are available. On this tour you will get a good perspective on this wonderful park, and the opportunity to view grizzly bears, moose, caribou, wolves and dall sheep. The moose, caribou and sheep number in the thousands, however, mother nature and the weather dictate if you get to see them up close or at all. Wildlife sightings are likely but are not guaranteed.
Did You Know?

Most visitors to Denali, want to see four animals in particular: moose, caribou, wolf and everybody's favorite: the brown, or grizzly, bear. The park is also home to 37 species of mammals, ranging from lynx, marmots and Dall sheep, to foxes and more.
If you want to maximize your chances to see wildlife, take the Tundra Wilderness Tour. Or consider the shorter Natural History Tour ( about 4.5 hours ). While wildlife viewing may occur, the chances are much slimmer than with other trips. You can learn more about Denali National Park. Visit http://www.nps.gov/dena/index.htm

The following morning we enjoyed a warm welcome as we experienced Alaskan lifestyle at Husky Homestead, home of four-time Iditarod Champion Jeff King. Jeff King is recognized as the "Winningest Musher in the World." His victories include not only the 1,049 mile Iditarod Sled Dog Race in 1993, 1996, 1998, and 2006, but also over two dozen first place finishes in races all across Alaska.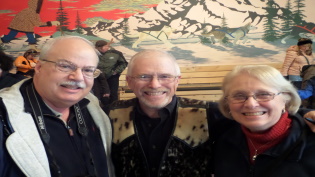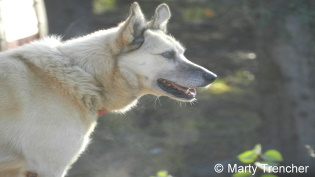 The Husky Homestead tour is widely heralded as an authentic look into rural Alaskan lifestyle based on over 35 years of Alaskan adventures: from freight hauling on Denali to crossing the finish line in Nome with a champion Iditarod team. We were greeted by cuddly puppies and got to share an intimate view of the Alaskan Husky as they explode from the kennel on a training run. We got a behind-the-scenes look at what goes into creating a championship team and carving a life in Alaska's Interior. In an hour long presentation by Jeff King himself, we heard compelling stories from the trail and saw actual racing sleds, arctic survival gear and equipment used to traverse 1100 miles of Alaska's most rugged terrain.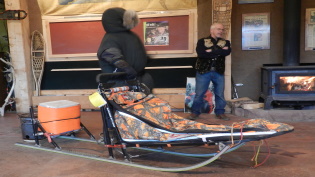 Husky Homestead's tour season just outside Denali National Park in Alaska runs from mid-May to mid-September and Husky Homestead buses will pick you up and return you to your Denali area hotel.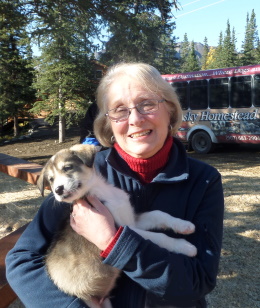 Later that day, we headed back to the Denali Train Depot for our train ride to Fairbanks. This time we traveled on the Alaska Railroad's " Goldstar" Service. Like the Princess Rail cars, we had seats in the glass-domed car and had dinner in the dining room on the lower deck. Good service and good food. Travel time to Fairbanks around 4 hours. We arrived around 8:00pm.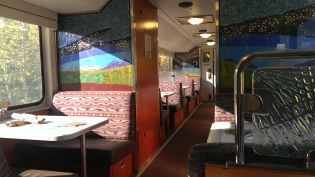 Fairbanks was founded by miners consumed with the gold fever that swept Alaska at the turn of the century. As gateway to Alaska's rugged interior, Fairbanks is where the real Alaska begins — the Alaska of the Northern Lights and the Midnight Sun.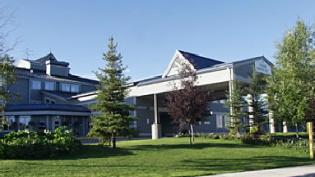 Here, at the edge of Alaska's vast wilderness frontier, we stayed at the Fairbanks Princess Riverside Lodge. The lodge's location is best situated, ideally located just minutes from the Fairbanks International Airport and Alaska Railroad depot.. The property is also convenient to the downtown area and the University of Alaska Fairbanks as well as popular attractions such as the Gold Dredge 8, the Riverboat Discovery, and Pioneer Park.
We enjoyed the serene views of the Chena River while dining in the Edgewater Restaurant. The hotel also features the Trackers Bar & Grill for spirits, appetizers and light fare or stroll out to the Riverview deck to sip your favorite beverage and select from a menu of tantalizing treats while relaxing at river's edge. We found the accommodations comfortable, and spacious.
The following morning we booked a combination tour : Gold Dredge 8 and the Riverboat Discovery. The tour bus departed directly from the Fairbanks Princess Riverside Lodge.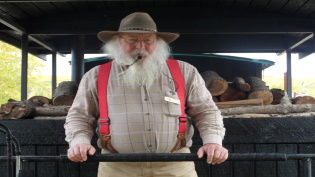 When we arrived, we took a seat aboard a replica of the narrow-gauge Tanana Valley Railroad and heard the conductor and prospector, tell tales of those who arrived by the thousands during the gold rush. The train ride took us to Gold Dredge 8 where we saw first-hand how the dredge worked the gold fields, then we received a brief but informative course on gold panning.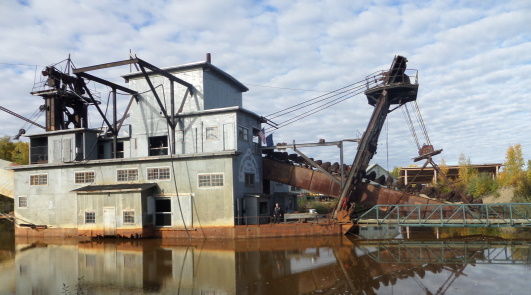 Once the train arrives at the camp, we got to try panning for gold ourselves We found gold! Then again everyone finds gold, as the attraction guarantees it! ( all $28 worth )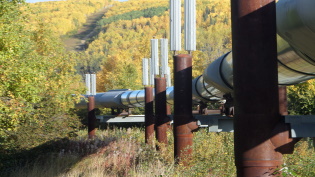 Finally, we could go aboard and explore the dredge up close.
There is complimentary coffee and freshly baked cookies in the gift shop as your gold is weighed, then we hopped aboard the train and returned to the station. We then enjoyed a close up view of the Trans Alaska Pipeline and a presentation about it's construction and operation.

We boarded our motorcoach for our trip over to the Riverboat Discovery, the only remaining authentic Alaskan sternwheeler for a cruise along the Chena and Tanana rivers in the Chena River State Recreation Area.
With the feel of an old-time steamboat that frequented the river during the gold rush days, this modern-day riverboat features an open sun deck, heated glass enclosed decks and is equipped with video equipment so you won't miss any of the beautiful scenery. During this narrated cruise, you will witness the ''wedding of the rivers.'' The marriage of these two mighty rivers creates quite a unique line when the clear waters of the Chena meet the Tanana, the world's greatest glacier river carrying tons of glacial silt from the Alaska Range.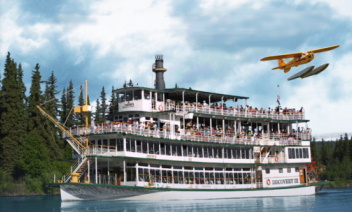 When we arrived, we joined our fellow passengers for a "family style " lunch in the Discovery Dining Hall, where we were served a hearty miner's stew lunch including salad and desert (vegetarian and gluten-free options were available upon request)
Our three-hour cruise introduced us to the Binkley family who has made the rivers of Alaska a way of life for five generations. We saw a bush floatplane takeoff alongside the boat, and visited the home and kennels of the late four-time Iditarod winner Susan Butcher.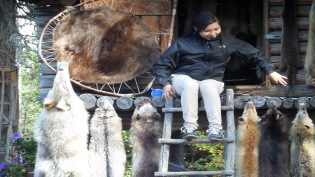 And we were immersed into the ancient Athabascan Indian culture when our Alaskan Native Guides took us on a personalized tour of the Old Chena Indian Village.

At the home of Dave Monson and Susan Butcher, the late four-time Iditarod champion, we met their winning sled dogs and witnessed a dog sleg demonstration. From there, we continued on to the Old Chena Indian Village and disembarked for a glimpse into Alaskan Native life and history. We toured an Athabascan Indian village with cabins made of spruce logs, a cache used for storing supplies, a primitive spruce bark hut and fur pelts. Our guides explained how the wolf, fox, martin and beaver were used to provide food and protection in the harsh Arctic climate. They also shared how the Athabascans skillfully survived for over 10,000 years and how they adapted to village life and Western culture in the past century.
If you have the time ( and the budget ) some of our favorite things to do in and around Fairbanks are;
Arctic Circle Air Adventure
Don't miss this opportunity to cross the Arctic Circle! Experience the rugged and magnificent Brooks Mountain Range. You'll receive an official Arctic Circle Adventure Certificate.
Chena Hot Springs & Ice Museum
Experience the "hottest" and "coolest" attractions in Alaska - a natural hot springs, ice museum and great dinner!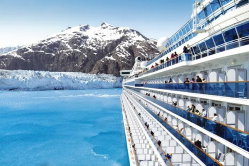 Our Recommendation, Final Comments
You can take this Alaska land tour, northbound ( after your 7 day cruise ) or Southbound ( Before your 7 day cruise). Given the pace and activity level, we highly recommend you do the land tour first, then your cruise.

At the Princess Denali Wilderness Lodge and the Fairbanks Princess Lodge, you can ask the front desk to arrange a Northern Lights wakeup call. They will alert you, anytime during the night should the aurora borealis be in view. On our final night of the trip, our hotel phone rang at 12:30am, to view the aurora borealis shimmering across the sky. Unfortunately, the viewing was brief as cloud cover moved in.

And, if you really want to immerse yourself in the splendor and beauty of Alaska book a flightseeing trip by helicopter or plane, to land on glaciers and see up close Alaska's majestic mountains.

In a week, we covered an amazing amount of territory, some 450 miles, with visits to Anchorage, Fairbanks and the wilderness destinations of Talkeetna, and Denali. We got to see Denali in full view, thus, joining the 30% club! We rode the rails and learned about native cultures. We got up close with wildlife, experienced stunning imagery, including snow-capped mountain peaks, lakes and rivers. We savored traditional local foods ( Like reindeer sausage and Alaskan salmon ). And we enjoyed sharing our experiences with our new found friends along the way.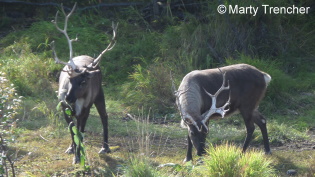 The biggest impression we came away from this trip is that Alaska's unsurpassed grandeur and serenity, the true wilderness of Denali, and Alaska's native people turn an ordinary vacation into the extraordinary. If you are just as impressed as we are, about all the things you can see and do in Alaska, then Alaska is your calling and well worth exploring.

Raye & Marty Trencher


Many of Alaska's Gold Rush-era towns retain their frontier flavor, with colorful storefronts, wooden sidewalks, vintage
saloons, and the vibrant influence of Native cultures. These are places that exemplify the friendly and unique character that has always defined the Alaskan people.

• In Juneau, the charming state capital, you'll find shops, cafés and the storied Red Dog Saloon. Just outside town is the famous urban Mendenhall Glacier.
• Ketchikan, the self-proclaimed "Salmon Capital of the World," is situated around a vibrant harbor and famous Creek Street, where shops and cafés abound.
• Rustic Skagway retains its authenticity as the "Gateway to the Yukon," offering attractions such as a ride on a Gold Rush-era railroad and lovingly restored storefronts, wooden sidewalks and local characters.
• The "Golden Heart City" of Fairbanks, established with the discovery of gold on the Chena and Tenana Rivers, is a feature of the land portion of certain cruise tours and pairs frontier charm with unique experiences like a sternwheeler riverboat cruise.
• Anchorage, Alaska's largest city, is beautifully situated on the Cook Inlet, and offers a scenic setting with shopping, restaurants and cultural institutions such as the Anchorage Museum at Rasmuson Center.

Take The Time To Chat With Them. It will be well worth your time.
Whatever it is you want to do! While a cruise ship can take you just about anywhere you want to go, narrowing down all the options can often seem overwhelming. That's where a little free unbiased advice goes a long way. Raye & Marty will help you find that cruise vacation you've been searching for, so you can enjoy the benefits of cruising that they've have experienced in more than three decades of cruising.

Read their Alaska cruise plus land + sea vacation review. Connect with like-minded Alaska cruise travelers that are actually experienced, having been there, and done that! They are eager to share their own stories about visiting Alaska, both from the sea and on the land. If you need help, have questions or want more information, talk to them. They are advocates who love Alaska,, it's people, wildlife, wonders and wilderness.
About Us : Alaska Cruises Direct
We work hard to build great lasting relationships by invested in getting to know our client's personal passions and finding experiences that are tailored to what you wish to discover. By developing our knowledge of your interests, preferences, and style, we are better able to anticipate your desires and needs. Our Certified Alaska Cruise Experts take that extra step that shows commitment and dedication to creating memorable experiences on an individual personal basis. They also stand by you, every step of the way. The person you speak to on your first contact with us, is the same person you deal with throughout the planning, pre-and post cruise experience. There's no call center here. Our Certified Alaska Cruise Experts want to get to know not just your travel preferences, but also your personal passions. That way, we will be able to suggest to you the right itinerary that connects to an emotional response, which is critical to creating a defining experience and lasting memory for you. Now, building those successful, genuine, long-term relationships with our clients, as well as the cruise lines we work with, is something that occurs over time. So, since 1999 we have been hard at work, getting better at it everyday

Did You Know?
Our Certified Alaska Cruise Travel Experts are the key element of what differentiates us from others. Our staff is the number-one reason people return to travel with us, again and again. Management and staff each have over 40 years experience in travel. We offer our knowledge, experience, expertise and service; and then provide travel services if requested. All with no agency fees. We have been highly specialized in Alaska travel since we started offering the destination over 20 years ago, and know the destination inside and out. Each of us is a cruise vacation professional. We're a valuable resource of first hand knowledge coupled with contagious enthusiasm for our work, here to help you plan the perfect Alaska cruise vacation. You'll find we're just
like you, sharing one common dream, the dream of cruising and the spirit of the sea. Call today and let us plan your most memorable vacation experience ever. Our services and advice are complimentary and we have lots of valuable information that we love to share.
We Are Avid Travelers Just Like You
Whether you're looking to book an all-inclusive land & sea package, or just a cruise, we can provide you with the best options available. We have access to the best choices and prices, and Bonus Extras that aren't available everywhere else. If you need help planning an upcoming Alaska cruise, Alaskan Land & Sea Vacation, or you just have questions about a specific destination or trip, call us at 800.365.1445. Offering free advice and insider tips you can trust from someone who is not only a certified travel expert, but an avid traveler, with over 30 years experience and expertise.
Plan Now, Sail Later
You may prefer to stay closer to home and opt for an Alaska cruise or land + sea vacation known as a cruisetour. A small deposit holds your reservation. Thus, the 2021 Alaska cruise season allows sufficient time to see how travel evolves before then.

Save up to 50% on Alaska Shore Excursions
Sailing on a cruise ship is just the beginning of any Alaskan Adventure. The absolute magnificence and splendor of Alaska can only be fully realized by experiencing an Alaska shore excursion. Whether it's by air, land or sea, exploring the wonders of Alaska cruise excursions will be a once in a lifetime experience. >Learn More
Ask About Our Unpublished Alaska Cruise Rates
(Promo Code: Hidden Treasures)
We have hundred's of unpublished rates including special past passenger, regional, senior, friends and family , and mini-group rates that cannot be displayed online. These rates are available only by speaking to a Certified Cruise Vacation Expert - Call us at 800.365.1445. The call is free and so is the advice. Never an obligation to book.
The Value of Knowledge And Know-How, from Alaska Certified Experts.
We have Certified Alaskan Cruise Experts who are eager to help you sort through all your options, answer all questions, give you their best advice and book your cruise or cruise tour. Certified Alaskan Cruise Experts have years of hands-on destination experience and expertise in travel to Alaska. And, we're a... Top Selling Agent in North America...
so our buying power and connections go a long way to getting you a great deal! Plus, we offer some amazing shore excursions. Choose salmon fishing, taking a helicopter and flight see over and land on glaciers, kayaking, trekking, panning for golf or feel the exhilaration of riding a dogsled, Alaska shore excursions are all adventure!